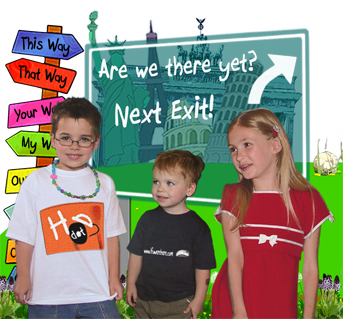 "Wow, Little Danny!  The "BIG APPLE"!
There is so much to see and so much to do!
We can't possibly do it all on our own!  We
need your help, Cousin Isabel"!
"No problem, Cousin Eugene"!
New York City is located in New York State!

New York City is the largest city in the United States!

More than 8 million people live in New York City!

Central Park has a "central" location in New York City!

Hundreds of modern skyscrapers make up New York City's famous skyline!

New York City is called "the city that never sleeps"!

New York City is also called the "Big Apple"!



If you were here, we could see New York City together!  In fact, there are so many things to see and so many things to do in New York City that I may have trouble doing all of them on my own!  It's no wonder New York City is nicknamed "The city that never sleeps" . . . .
Love, Oma
Did you know that New York City was once called New Amsterdam?  It was named by the Dutch who bought it from the Algonquin Indians in 1626 for about $24 in traded goods.  It was renamed New York by the British in 1664.  Located at the southern most tip of New York State where the New York Bay, the Hudson River and the East River come together, New York City thrived in early times as a result of its prime location.  Today, it is one of the world's most important harbors.
If you were here, we could take a look around the neighborhood.  There are lots of them!  New York City is made up of five boroughs, Manhattan, Brooklyn, the Bronx, Queens, and Staten Island, and together they make up more than 100 neighborhoods, each with its own identity!  As a matter of fact, they are so diverse that from one neighborhood to the next it may seem as if we are visiting another country!  This diversity adds flavor and color to the cultural flair of New York City, and if you were here, we could experience this diversity together!
We could visit one of New York City's many parks, too, if you were here.  There are more than 1,700 parks and recreation areas in New York City!  Central Park is the most well known, however.  Started in the 1800's, it took 20 years to finish it!  Today, its many paths, lakes and wooded areas still offer a relaxing contrast to the hustle and bustle of the city.
Learn more about New York City at
Heckery Dekkery Dot Travel Game Postcards for Children!  ifuwerehere.com/newyorkcity