The Pyrénées Mountains are really STEEP!

Their average height is about 5,300 feet (1,615 meters).

Wow!  That means they're more than a mile high!

They are 270 miles long (430 kilometers) and form a high wall between France and Spain.

Cool
"Hi", more than 9,000 feet high (almost 3,000 meters), from the Pic du Midi

in the Pyrénées of southern France . . . .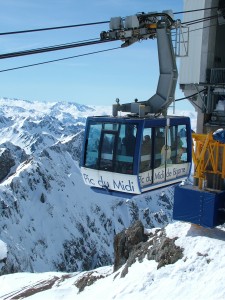 WOW!  The view from the top of the Pic du Midi is breathtaking, and you can see just about "forever"!   It's not so easy to hike to the top, but you also can get there by cable car!  There is a museum where you can see observation instruments which illustrate a century of scientific research, and there is also an observatory where scientists study the earth's atmosphere, ozone layer, climate, and more!  They are not just walking around up there with their heads in the clouds!
Did you know that the Bernard Lyot Telescope, which is the Pic du Midi's most important telescope, is famous for being the first instrument in the world to be dedicated to the study of the stars' magnetism?
Of course, it should not come as any surprise that skiing is quite popular on the Pic du Midi!  They get a lot of snow!  In fact, some peeks in the central Pyrénées are permanently snowcapped, and there are many glacial formations!
Skiing, throwing snowballs, look out below
http://www.ifuwerehere.com/to_the_sites/france/31t7qx_pic_du_midi.html! We could have lots of fun if you were here!
Help SOMEONE you know learn more
about the world around them!
Why?
Because everyone WINS when that happens!

Heckery Dekkery Dot will send this postcard on its way
to help YOU get the travel game underway!
~~~
It's  FUN!  And, it's EDUCATIONAL, too!
Who will win?
Everyone wins when children learn more about the world around them!
Heckery Dekkery Dot Travel Game Postcards for Children
ifuwerehere.com